Our

Company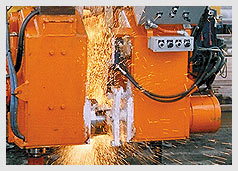 PCM Strescon Overseas Ventures Limited ( PSOVL ) was incorporated in 2006. The company is promoted by PCM Cement Concrete Pvt Ltd and Strescon Industries Ltd, primarily to execute overseas projects. PSOVL has also successfully executed two Greenfield projects for production and supply of 2.57 million Pre-stressed Concrete Railway Sleepers for North South Railway Project of Saudi Arabia Railways (SAR), Kingdom of Saudi Arabia. PCM Strescon Overseas Ventures Ltd is the group company of the PCM Group.
Promoter's

Profile


PCM Cement Concrete Pvt. Ltd. was established in the year 1991. This company has four divisions namely Sleeper Division, Flash Butt Welding Division, Infrastructure & Real Estate Division and Media Division. The Sleeper division is engaged in manufacturing and supplying of Pre-Stressed mono block concrete Sleepers to Indian Railway. It has the capacity of manufacturing all types of Sleepers, which are also supplied to the Bangladesh Railways. The Production capacity of the factory for broad and Dual gauge concrete sleepers per year is 0.5 million. Apart form Broad and Dual gauge sleepers the firm also manufactures Turnout, Bridge Approach, Level crossing, Switch Expansion joint Sleepers and PSC bridge slab. The Company is well experienced in manufacturing of Turnout Sleepers with the production capacity to manufacture 500 sets per year.

PCM Cement Concrete Pvt Ltd is a part of PCM Group of Industries (www.pcmgroup.co.in), which is one of the India's leading business conglomerates. This Group is known for its Corporate Social responsibility and has been engaged in many socio economic projects for the people. Group has been awarded with many prestigious awards for its CSR activities. 

Strescon Industries Limited (SIL) is a leading manufacturer and exporter of various types of Railway Pre-Stressed Concrete (PSC) Sleepers for the railway industry.

Strescon Industries Limited (SIL), part of the Munshi Group, runs it's PSC Sleepers business from Calcutta. During the last ten years, Strescon Industries Limited (SIL) has positioned itself as the industry leader in production of various types of Railway PSC Sleepers.